Auto Air Conditioning Service Campbellfield 03-93599499
Auto Air Conditioning Service Craigieburn - Auto Air Conditioning Service Roxburgh Park - Auto Air Conditioning Service Preston
 We are Located in 1/31 Onslow Ave. Campbellfield Near Gowrie Railway Station –(Glenroy ) & Keon Station Thomastown. 
AUTOMOTIVE AIR CONDITIONING RE-GAS & REPAIRS
At Frank Donnini Mechanical Repairs is Fully Accredited & Licensed ARCTICK registered business licensed to do Car Air Conditioning Service and Repairs.
The Air Conditioner is not always included in a 'standard' or log book service. 
You may not be aware that over 10% of air-con gas permeates from the air-con system every year, which means that it may not work as well as it should. This is why car manufacturers recommend your Air-Con system is recharged with gas and lubricant every 2 years. This service is not part of routine vehicle servicing, so if your vehicle is more than 2 years old it's probably due a recharge.
During the hotter summer months motorists use the Air-Con system more; however your system is also useful in winter. Air-Con systems create dry warm air rather than the normal humid air from outside and this de-mists your car windscreen more quickly.
Is your Air Conditioner Cooling 100%?
If not it has most likely lost Refrigerant Gas
If however your Air Conditioning has stopped cooling it has most likely lost gas and must be leak tested and repaired before regasing.
Running the system at least weekly in non-summer months  to keep gas and oil circulating through the system which helps extend the life of seals in the system

Servicing the system annually and replacing the receiver dryer every 2 years

Ensuring the drive belt is adjusted and in good condition.
Fully Equiped Workshop
We offer a fully equiped workshop and facilities.
Leak Detection
Leak/s of refrigerant can occur from pipe joints as a result of vibration, from ageing rubber hoses and 'O' ring seals, as well as through the seal on the compressor shaft.
Under The Australian automotive code of
practice for the control of refrigerant
gases during manufacture, installation,
servicing or de-commissioning of
motor vehicle air conditioners 2008 it is against the law to simply add refrigerant to a leaking system or to "Top up", as the expression is known, before thoroughly examining the system, locating and remedying all known leaks before adding refrigerant.
Therefore Best Practice Procedures indicate that we find the source of the leak and replace or service the component as part of a re-gassing service described below.
Re-Gassing Service
If your system refrigerant requires re-charging we will carry out an initial test to find out why, by:

• Identifying the refrigerant used
• Checking system and related components
• Via a recovery unit (if needed), recover any refrigerant
• Run a deep vacuum to remove any moisture
• Leak test with the use of Oxygen Free Nitrogen for at least ½ hour
• Charge with refrigerant as to manufacturers' requirements
• Best practice principles require that we would recommend changing the dryer or accumulator during the above
•The minimum time for the above is approximately two hours labour
Air Con Repairs
Car air conditioning systems are complex and have few self-service parts. Specialist equipment is needed both to service and repair systems.
Compressor Diagnostics
Compressor discharge temperature should checked and temperatures at the compressor head, evaporator coil and suction line, condenser coil and liquid line, should be surveyed, using specialist refrigerant equipment such as digital multimeters, pressure/vacuum modules and refrigerant gauges as well as electrical testers. If its possible also the fan motor and if fitted oil pump should be checked.
Accessibility to some of these parts is difficult so time involved will vary depending on the Air conditioning layout of the vehicle in question.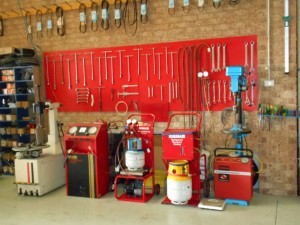 Car Air conditioning Service !
 This will usually include then following as a guide: Service Procedures
Check operation of valves and thermostats
Inspection of hoses and components
Evacuate system & Recover refrigerant (weigh amount and record)
Add required amount of refrigerant oil
Charge system with recommended refrigerant type and capacity (if required)
Condenser temperature check
Suction line temperature reading
Leak test system lines and components with an electronic leak detector
Run vehicle to check air vent temperature and report
Inspection of drive belts and pulleys
Add required amount of refrigerant oil
Car Air Con Service & Pipework Repairs
To undertake servicing a system ready for re-charging by vacuuming and pressurisation in order to re-charge the system takes approximately 2 ½ hours Thereafter to re-charge with a full charge of refrigerant according to manufactures recommendations takes but a few minutes.
We then carry out a final test and leave the Air-Conditioning System in good working order. In total this programme takes two to three hours to complete.
Servicing of your vehicle's air-conditioning system will ensure a long and trouble free life. Best practice includes:
• checking oil and refrigerant levels where applicable
• where applicable using service gauges to determine high and low
pressure settings and volume of refrigerant
• checking the condition of flexible hoses
• Re-gassing as necessary
In addition to the above. Once every 3 or 4 years the following should be re-placed
The OrificeTube. The Accumulator or Filter/ Dryer. Compressor oil replaced
And if fitted the suction line filter.
As to the filter dryer, it should be changed whenever
[a] the system is opened
[b] when other components are replaced.
[c] It becomes blocked. This cCan be verified be checking temperature at its inlet and outlets pipes.
Some filter dryers are now part of the condenser.
As to the shaft seal, it should not leak, it is a seal, and leakage indicates wear.
Shaft seals depending on the make and model of compressor can be replaced and the same applies to the magnetic clutch and coil.
To keep your Air-Con system fully charged all year, why not call in to Frank Donnini Mechanical Repairs and have your vehicle's air conditioning system recharged with gas and lubricant today.